The Chateau Laguiole classic was created in 1993 by MasterSommeliers Guy Vialis and was the first true waiter-style Laguiole style corkscrew on the market. Since it debuted the Chateau Laguiole brand has been the favorite among some of the world best sommeliers and, to this day is the most sold (and imitated) of all high-end waiter-style Laguiole corkscrews. two distinctive style are available, the Classic and the Grand Cru pictured below. The Grand Cru series was created in 1996 to satisfy the need for a stylish and more durable opener. The Grand Cru has the same characteristic as the classic but is more suitable for heavy-duty use (more than 20 bottles a day).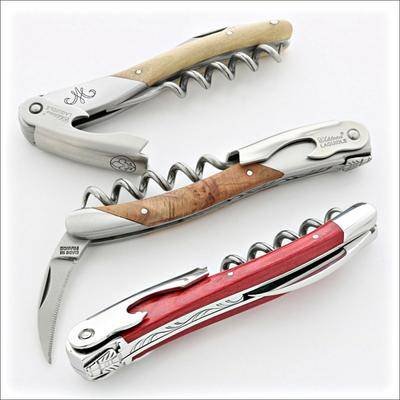 Handmade in the village of Laguiole, France, the Forge de Laguiole "Sommeliers" as they are often called are the only high-end waiter-style corkscrews to feature the traditional shepherd's cross on most models. This wine opener was created in collaboration with professional sommeliers in France and around the world. It's ergonomics, elegance, and efficiency earned it the "Prix Design Plus" (the Design Plus award) in Frankfurt, Germany. Additionally, each one of these incredibly efficient masterpieces are entirely hand-assembled and completed by the same craftsman to ensure pride in the completed object.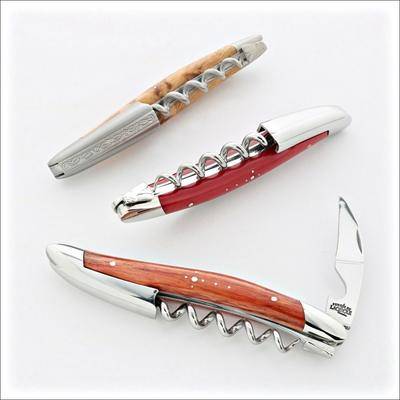 This long-awaited super high-end Laguiole waiter's corkscrew features a patented one-piece two-step boot lever; a forged one-piece spring & bee and a non-serrated foil cutter to facilitate sharpening.
What sets this tool apart from all others including non-Laguiole corkscrews is its size and ergonomics. At 5.6 oz it is not a lightweight tool, but it feels surprisingly good in any size hands male or female. This object of pure luxury is taking over the two-step corkscrew business and of course, it is 100% Made in France.The Magnums are entirely handmade in Europe's capital of cutlery "Thiers." The "Gilles®" Fontenille Pataud collections of cutlery are considered by many to be some of the best money can buy. All items offered by Gilles are entirely made by a single craftsman from start to finish ensuring pride of ownership of the final piece. It is also important to note that all magnum wine openers re individually photographed so you will actually receive the one on the listing.