Laguiole knives are not only made made in France
Since the name "Laguiole" was never registered as a brand of cutlery, it is now part of the French public domain. However, several well know manufacturers are actively trying to change the French legislation and create some type of "single appellation d'origine contrôlée" to be used by current French manufacturers.As of 2023, anyone can use the name "Laguiole" and place it on cutlery related items regardless if the knives are made in France or have a 'Laguiole" design or style.
As a result, most inexpensive Laguiole style knives found in Big Box stores and sadly in some high-end stores, were probably not or not fully manufactured in France.Laguiole is a style of cutlery that first appeared in the village of Laguiole, France during the 1820's.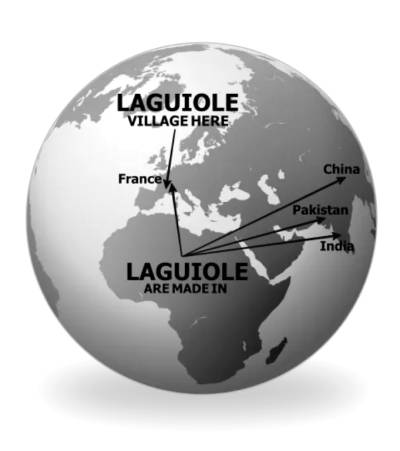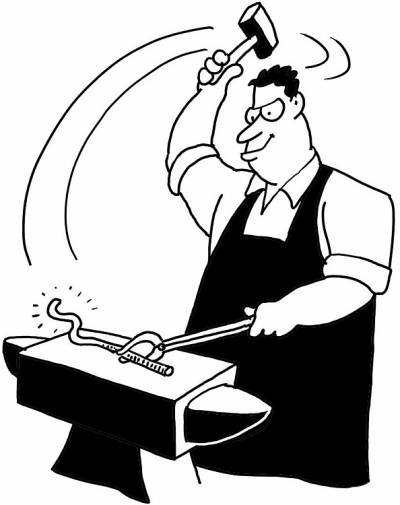 Most French made Laguiole knives are not made in the village of Laguiole
The city of Thiers and its surrounding towns are where most Laguiole knives are made in France. It is a fact that for many decades Laguiole knives were not made in the Village of Laguiole but in Thiers.
Thiers cutlers rescued the Laguiole knives by taking on the manufacturing in the early part of the 1900s, if they had not, the most beautiful and elegant knives on the planet would have probably vanished all together. It was only in 1987 that large scale manufacturing of the famous style of knives was reintroduced in its birthplace of Laguiole by "Forge de Laguiole."
Some Laguiole knives that are made in France are not necessarily fully made in France
 As long as 45% of the added value from the making of the product comes from French territory, it can be considered made in France. Without going deep into this messy legislation, I would like to add that the packaging of such item is included in the "added value." In other words, if the wooden box that comes with an item is made in France, then it counts towards the 45% of the added value of the final product that is actually located inside the box. With that in mind, one could only wonder why so many inexpensive Laguiole cutlery items that are presented as "Made in France" come in very attractive wooden boxes. So, next time you are shopping and come across some beautiful Laguiole steak knives that cost $29.99 for a set of 6 you will know that you are most-likely presented with subpar cutlery that was mass produced as disposable cutlery.
Yes, some French manufacturers are taking full advantage of the law by simply having many components needed for the final product made outside of France and still legally stamped or labeled the final product with "Made in France". Fortunately, most French cutlers are very ethical and do produce amazing knives that are genuinely made in France.
It is important to note that Laguiole Imports do not work with manufacturers that are "partially" making knives in France. Forge de Laguiole®, Chateau Laguiole®, Fontenille Pataud® and Laguiole Resto cutlery are 100% made in France.